Special requirements
The founders, directors and craftsmen at Apollo are all aware of the frustrations of wheelchair users when trying to enter the motorhome market. Many bed and breakfasts or even Hotels do not cater fully for wheelchair users, and those that do have only limited spaces available. Motor caravanning, therefore is a very attractive option. Unfortunately, the motorhome market is saturated by large manufacturers who do not have the time to address individual needs. We at Apollo have a production area dedicated to dealing with these needs, and providing customers with exactly what they require.
Ramps, lifts, hoists and winches
At Apollo we have an engineering department so all the technical and design aspects such as lifts, hoists, ramps and winches can be dealt with in house. Apollo does not have to contract outside companies to carry out the engineering aspects of fitting and accommodating lifts, winches or ramps. We deal with various companies for supply only and in some cases even manufacture these products ourselves. This obviously keeps cost down.

Apollo has fitted various different lifts, from under-floor lifts (provides for more interior space), to on-board ones (usually less expensive to fit). We have even adapted lifts to carry wheelchairs that were originally for other purposes.

Recently Apollo's engineers designed and constructed a hoist system in order to save our customer considerable extra costs. Apollo also designs and makes ramping systems, which are a much cheaper option for customers.
Interiors
In terms of interior design Apollo strives to achieve a layout that suits the customers' exact needs. Not all people are 100% sure what sort of layout they require. Not all people are confident to put forward their own ideas or drawings. When they are, then Apollo are happy to work from these drawings or ideas. When they are not we invite customers to see the factory and discuss options at length. Once a customer has described what they need to get out of their motorhome we advise possible layouts. Once a preferred design is chosen by the customer arrangements can be made to commence production.
Lead Times
Lead times can be anything from eight to sixteen weeks depending on the complexity of design and the customers' requirements. Sometimes builds can take longer but they usually come within this time structure.
Other requirements

Apollo does not only build motorhomes for disabled customers but for customers with any special requirements.
Recently we built a van conversion to accommodate a customer with a garage to house motorbikes as well as two double beds and kitchen and dining facilities.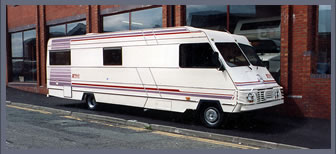 In the past we have built everything from twenty-nine foot A-class motorhomes to converted coaches for those customers who wanted something a little out of the ordinary.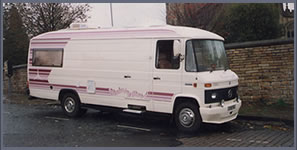 Customers are welcome to bring their own base vehicles for Apollo to build on or inside. However, we do provide a good package for those who buy their chassis or van through us.
Placing an order
After the design and layout has been agreed Apollo require the customer to pay in full for their chassis unless the chassis is already part of the Apollo stock (cost will vary depending on which chassis the customer chooses). If the chassis is in stock, or if the customer provides their own chassis then Apollo ask for a 10% deposit. Apollo will then construct the motorhomes framework and furniture before asking the customer to make the deposit up to 50%. The balance is then due on completion. Remember that wheel chair users are entitled to zero rated sales (no VAT) on new motorhomes adapted for wheel chairs.