A bit of history
Although seen relatively infrequently on UK roads demountables have been manufactured in the USA since the 1960's. In the United States today and also in Canada and New Zealand, demountables are extremely popular.
If you have ever visited these countries then you are sure to have seen various demountable motorhomes frequently traveling the roads. If not then keep an eye open when viewing American cinema. Demountable motorhomes often pop up in the backdrop of many popular American movies (X-men, vanishing, Duel by Hitchcock).
So demountables are not a new idea but Apollo are amongst the first manufacturers to put the concept into production in the UK. Apollo are currently the leading UK manufacturers of the product.
The concept of demountable motorhomes is an attractive one for many reasons. However, the development of the pick-up truck over the past few decades has done much to increase the appeal.
Apollo built its first demountable in the early 1980's when the only pick-up trucks available to the UK market were relatively primitive.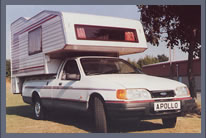 Only available at this time with two adult seats this type of vehicle could hardly be used as a family car. Apollo tended to deal the product to builders, contractors and other trades-folk. In short to those people who required a utility vehicle for their own livelihood. Pick-up trucks today, on the other hand, are an appealing proposition for anyone.

Available in four-wheel drive with five seats, turbo-charged inter-cooled engines, electric windows, air conditioning and fantastic body styling the pick-up has become a serious alternative to a family car. In fact most models are far more stylish and impressive than the average family saloon. Mitsubishi, Mazda, Ford, Nissan, Land rover and Isuzu (to name but a few) all manufacture top quality pick-up trucks. Apollo retails these vehicles as well as the demountable homes and offer very competitive packages.
When entering the caravan or motorhome market in the past the purchaser has been faced with a choice between towing a caravan and driving a fixed motorhome. The disadvantages for both are obvious. A motorhome is a lot of vehicle to be driving around the roads on a regular basis. Height restrictions at supermarkets or in car parks, not to mention the general logistics of driving a large vehicle, makes a second vehicle a necessity for most people.
The extra costs of maintaining, taxing, and insuring a second vehicle should not be underestimated. This is not to mention the disadvantages of the motorhome while in use. Unpacking and repacking pots and pans, tables and food before each journey can become tiring. To return to a campsite after a days adventure to find your camping spot taken can be more than a little irritating. The caravan then, has previously been the alternative to these problems. However, the difficulties of manoeuvring are far worse than with a motorhome. Windy weather makes towing a caravan difficult, stressful and even sometimes dangerous.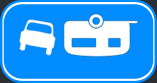 Over the past decade there has actually been a move towards motorhomes from caravanners for this very reason.
Today the UK purchaser has a better alternative. Buy an Apollo demountable. The coming together of superb motor engineering on the part of the pick-up truck manufacturers and the thirty years manufacturing experience of Apollo provides for the ultimate camping option.
The demountable concept
The demountable while attached to the truck drives and manoeuvres like a fixed motorhome. Once at your destination the demountable can be detached from your pick-up with relative speed (10-20 minutes) and ease. Apollo demountables have a choice of manual or motorized jacking legs. Both systems are quick and easy to use but the motorized system is physically effortless.
The demountable can be used either on its jacking legs or on the pick-up truck providing for ultimate flexibility. No need to pack away your holiday gear each day before setting off to explore the sights. No more need to worry about the complications of towing, and once that perfect camping place is secured no more need to worry about losing it!
Apollo today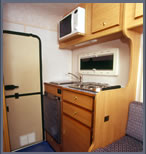 Apollo always tries to stock several demountables for display. Appointments to view the busy Apollo factory can also be arranged. A sales representative will happily take customers around the factory to explain construction of the product. Useful ideas can be gained by viewing other customers' demountables in the making and all possible options can be discussed. Apollo has two standard layouts for demountables suitable for four door trucks and one standard design for two door and King Cab trucks. These standard models are all four berths and include all facilities one would expect to find in a motorhome or caravan. There are also many available extras. Click here for prices.
However, if you wish to have a different layout to suit your own specific needs then Apollo can build their demountables to specification. An appointment to view the factory is key under these circumstances and a quote can be relatively quickly arranged.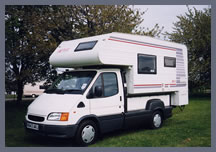 We have built demountables for very large utility vehicles such as the 190 twin wheelbase Ford Transit and also the Transit Flare sides.
We have even built for small pick-ups like the VW Caddy, and have built several mobile demountable offices.
Ordering a demountable
When you have viewed our demountables and seen how well they are built at our factory you may well want to purchase one for yourself. Apollo takes an initial 10% deposit. We then construct the unit to half-completion. At this stage we will invite you to view your demountable in construction and ask for a further 40% of the agreed purchase price. The remaining 50% balance can be paid on completion. All major credit cards are accepted (symbols?). There will be no extra charge if the 10% deposit is paid on credit card but for amounts beyond this there will be a 2% charge.
Warranty
After collecting or taking delivery of your demountable you will be pleased to know Apollo provide a twelve month manufacturer's warranty. Extra warranties can be arranged.
Insurance
Several companies provide specialized insurance for our demountable product. Campton, NFU and Safeguard are amongst the more experienced insurers of the product. They are all very reasonable in price.
Demo
Click here to see the demounting process and to view the demountables at closer quarters, including interiors etc.